Where to Eat in Vancouver: Rosemary Rocksalt
A few places have popped up lately serving Montreal smoked meat around town. My mother, born and raised in Montreal, is not easily impressed by these attempts. "Too lean," she tells me at one deli. "Too peppery," she says at yet another. I know she loves smoked meat, so I make a point of meeting her for lunch at each new place I find, trying to recreate a part of her gastronomic past. Will this one make her list of where to eat in Vancouver?
My latest suggestion was Rosemary Rocksalt, a new bagel and smoked meat cafe in North Vancouver. The first thing my mum says, however, dashes my hopes a bit.
Where to Eat in Vancouver for Smoked Meat?
"I've never seen anyone in Montreal serve smoked meat in a bagel," she says quietly. Though she also admits it has been over 30 years since she has checked whether bagels have supplanted rye bread for smoked meat-to-mouth delivery. Regardless, we settle in to wait for our sandwiches.
Rosemary Rocksalt is an off-shoot of the Siegel's Bagels empire. There are similarities – the warm feta and spinach bagels up front, the piles of rugelach, a baker dumping bagels deftly into a bin with an impossibly long wooden plank. The interior of the cafe itself, however, feels cleaner and more modern: it's all white chairs and tables, white walls, and pretty murals. There is the simple menu of smoked meat sandwiches, a few melts, a breakfast bagel (also featuring smoked meat), french fries and of course lox and cream cheese is topped off with coffee from 49th Parallel. You can buy bags of bagels, and containers of their lethally good cream cheese to have at home as well.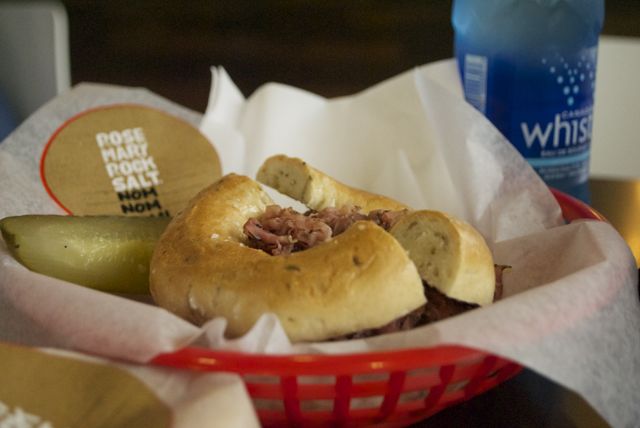 Kid-Friendly Vancouver Restaurant
In terms of fitting in the cafe with a stroller, it's a bit of a tight squeeze. There are only three tables and a few tall stools at the window. If you come outside of peak lunchtime rush, you should be able to claim the end table with room for a stroller alongside. For walking children, it's great, though you still would do better to avoid prime lunchtime if possible.
When our sandwiches arrive, after a mix-up over mustard and a bit of a mysteriously lengthy wait for a replacement, it is nothing but silence and chewing. "So good…" my mother says. Success!
The smoked meat is tender and cut thin, avoiding some of the awkward chewing and tearing that can happen with thicker slices. The fat content is just right. I have to say, the eponymous rosemary rocksalt bagel is divine with the smoked meat. Surprisingly, the french fries are very good. When only one thing on the menu requires a fryer, it can sometimes mean there are shortcuts happening. Fries sitting around under a heatlamp, oil not hot enough, and so on. Not here. They were piping hot and perfectly crisp.
Rosemary Rocksalt has grand plans for expansion, and I'm looking forward to being able to get good smoked meat closer to home. If you're wondering where to eat in Vancouver for smoked meat, give it a try.
Rosemary Rocksalt
www.rosemaryrocksalt.com | Facebook | Twitter
1669 Lonsdale, North Vancouver, 604-929-1817
Erin McGann
Erin McGann is the former Managing Editor for Vancouver Mom and Toronto Mom Now. She drinks just a bit too much coffee, is a bit obsessed about sourcing local food, plays the cello moderately well, spends too much time on Twitter, keeps honeybees on a rooftop, and has a thing for single-malt whisky. Erin is working on a novel set in turn-of-the-century Vancouver, which her husband, son and dog have to hear about all the time, and also blogs at Erin at Large.