Insider Tips: Preparing for The North Pole Express Train Ride
It's the time of year for festive train rides, hot chocolate, visits with Santa Claus and magical memory making! The North Pole Express train is a not to be missed family friendly event taking place in Squamish throughout the month of December. Tickets for this festive holiday adventure are sure to sell out quickly, so don't delay if you are hoping to go. If you managed to snag some tickets already, read on for our insider tips on preparing for the North Pole Express and how to make it a success.
>> Holiday Fun! All Aboard the North Pole Express Christmas Train Ride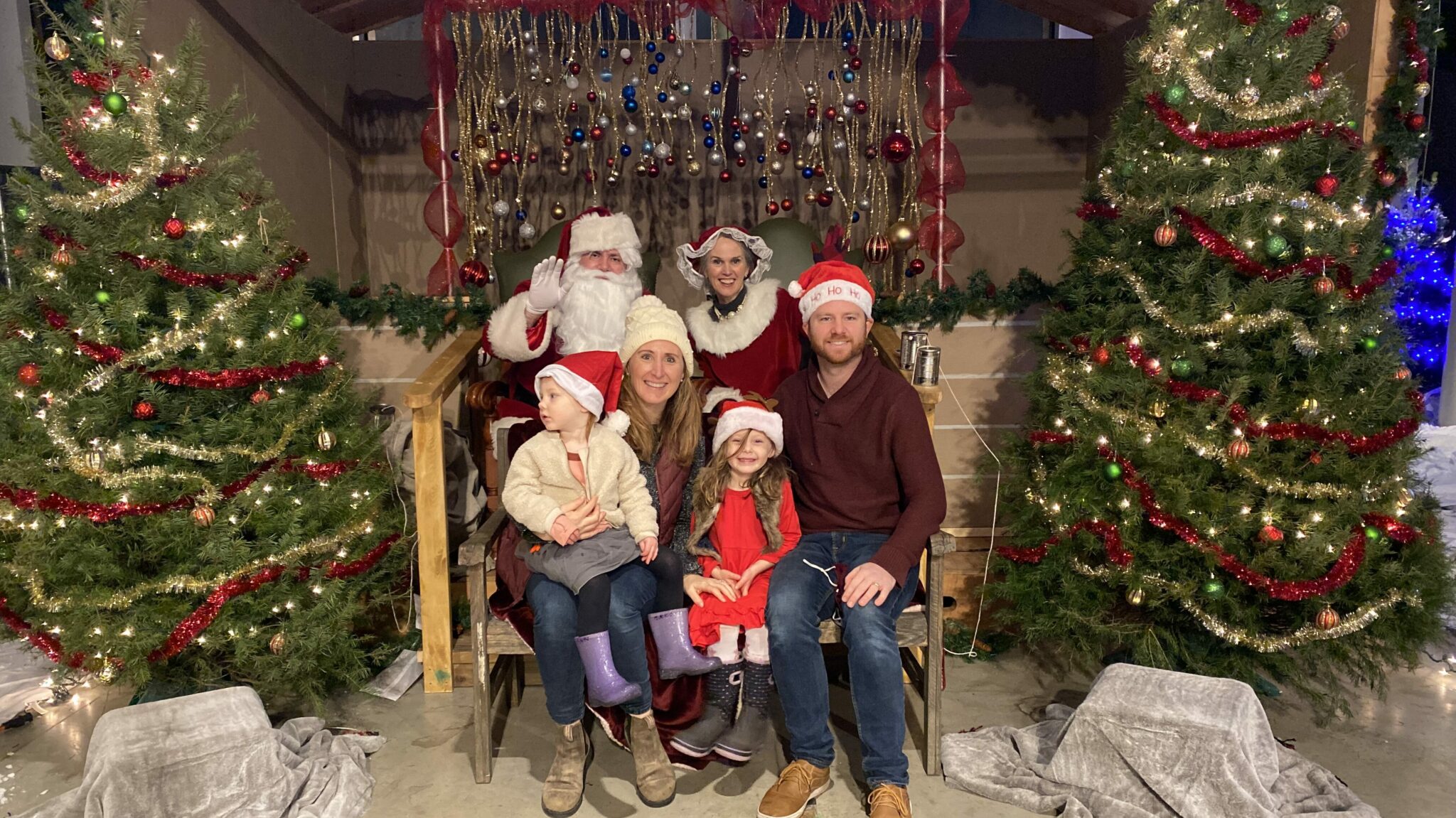 Arrive early and check road conditions
As you'll be heading up the Sea to Sky highway, make sure to check out the road conditions ahead of your departure.. Given the changing weather conditions, it is recommended that you leave with plenty of time to arrive in Squamish at the The Railway Museum of British Columbia. Plan to arrive approximately 40-45 minutes before your scheduled departure. This will give you enough time to park, walk to the entrance from the gate, get your hot chocolate and make your way into the station waiting room. The latest you can check in is 10 minutes before departure.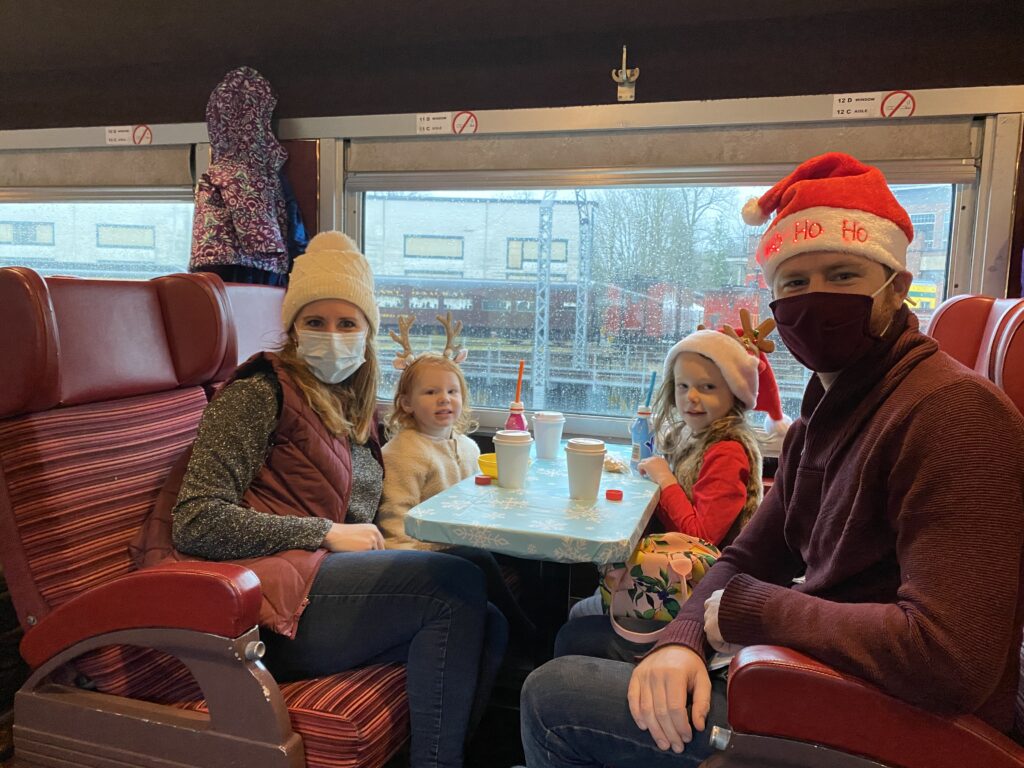 Planning for the train ride
The train ride is approximately 50 minutes long with lots of fun along the way. You can bring your hot chocolate as well as any of your own snacks along. For little ones, it's a good idea to consider going to washroom before boarding. There are portable bathrooms outside of the train station waiting room, as well as washroom inside at the North Pole.

On the train, you can can expect to sing songs, eat a treat, and meet some festive characters. Hanging coats on the hook and tucking away belongings makes for a comfortable ride.
Seats on the outside are good for meeting the special holiday guests and window seats are great for watching the passing views.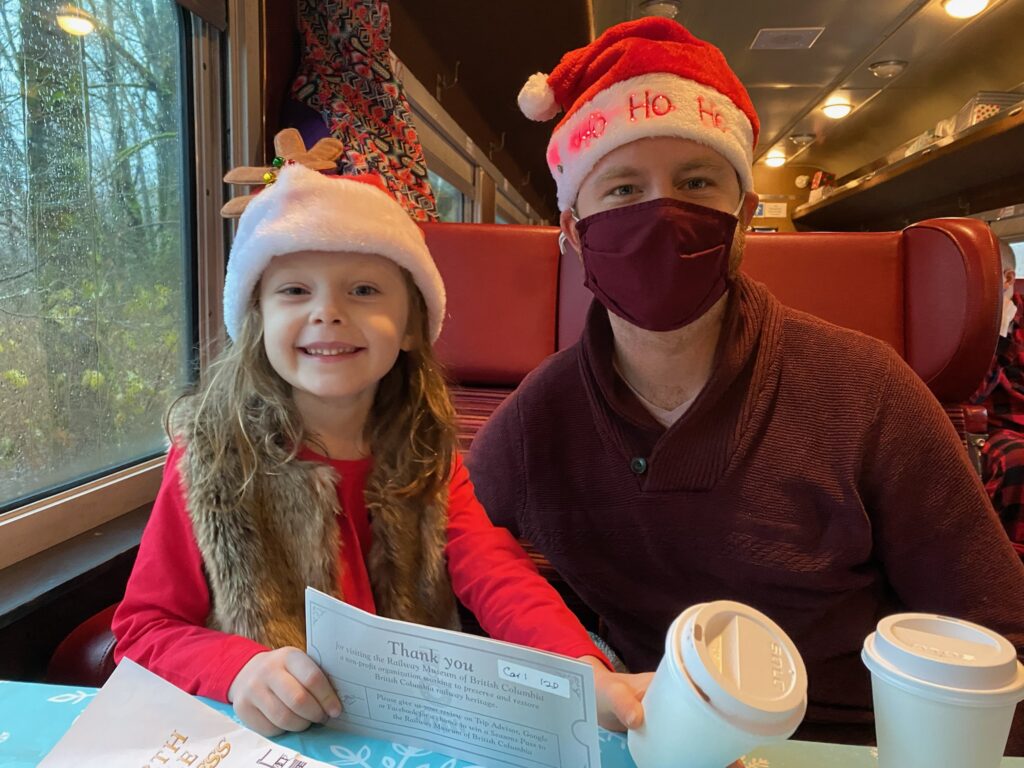 What to bring and what to wear
Pajamas, Santa hats and festive attire welcomed!
However, from the parking lot to when you board the train, you can expect about 10-15  minutes of outside walking time. It's advised you dress for the weather along with wearing appropriate footwear. Once aboard the train, you can delayer off and hang your coats on the hooks next to the seats (little ones may even slip their boots off to get cozy). First class is assigned seating, and Coach is first come, first served.

Bring a small backpack. It's nice to be able to tuck away jackets once you arrive at the North Pole. Other things to pack inside your backpack – a water bottle and a fully charged camera or phone. You won't want to miss those photo opportunities!
Proof of vaccination is required at this event for those 12+ years of age, so remember your photo ID and masks.
Food and beverage planning
Make sure to stop in at the tent outside of Candyland station for your hot chocolate! It's quite toasty warm, so make sure to let it cool down for little ones. On the train ride, you'll receive a cookie and candy cane from some special visitors. And, inside the North Pole there is food for purchase if you are feeling a little peckish from the journey. Expect items like hot dogs, popcorn, and juice for purchase.  
What to go see at the North Pole
We don't want to give it all away! But, there are lots of wonderful little surprises to see at the North Pole (inside the big dome). Our top picks include a family photo op with Saint Nick and Mrs Claus, a magical ride on the mini train, and the miniature themed railways. 
We hope you have a great time at the North Pole Express. This is an incredible event put on by many volunteers who can't wait to welcome you!
Renee Janzen
A connector by nature, Renee loves to bring people together and is fueled by thoughtful conversations, family style meals and perfecting details. Hikes for the views, thinks variety is the spice of life, and is always up for an adventure with her husband and their two young daughters. A fulltime marketer by day, Renee recently moved back to the North Shore where you can find her busy with work Zoom calls, home renos, and enjoying the great outdoors with her family.